SOROTI DISTRICT DISBURSES PDM FUNDS TO BENEFICIARIES
S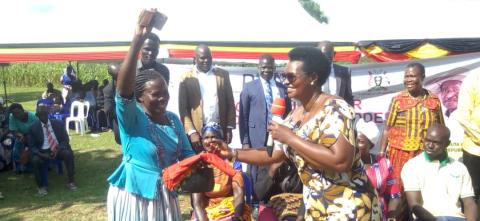 By Abraham Ekwaru
Soroti District Local Government in eastern Uganda has disbursed Parish Development Model (PDM) funds to beneficiaries in 54 active parishes in 12 sub-counties.
"I have presided over the disbursement of PDM funds to beneficiaries in Soroti district to the tune of UGX 5.7 billion," said the Minister of State for Fisheries, Hon. Hellen Adoa.
Adoa who was the Chief guest in the event was held at the Katine sub county headquarters in Dakabela county.
Adao, who is also the Serere district Woman Member Parliament, assured the residents that President Yoweri Museveni and the National Resistance Movement (NRM) government would continue to fulfill its manifesto presented to the people of the district and Uganda at large.
She, therefore, urged the district leaders to monitor the effective use of the funds and to continuously rally the people to engage in activities that will create positive change in the community. The President launched the PDM programme in February 2022.
Simon Peter Edoru Edoru Ekuu, the district Chairperson Soroti challenged the beneficiaries to put money into use and desist from the act of mismanaging the money for unplanned activities. He said that government has brought this money to help the poor while targeting the 39 percent of farmers who are still in subsistence farming.
Acubo Rose, one of the beneficiaries said she going to venture into sheep rearing "Am very happy for the support of money from the government, I will now put this money into better use," said Acubo. It is a government multi-sectoral strategy to reducing poverty, by moving 39% households (that is, 3.5 million households or 16.1 million Ugandans) under subsistence economy (living hand-to-mouth), into the money economy.